Comments Off

on Mansfield's Shops at Broad
The Shops at Broad
Have you seen the construction at Broad and 287 and wondered what is being built?  The Shops at Broad are currently underway and should be opening soon.
The construction is for a mixed-use development at the Northwest corner of East Broad Street and U.S. Highway 287.  There will be dozens of shops and restaurants there including anchors like Academy Sports and Outdoors as well as At Home.  Also anchoring the new shopping center is a new Stars Center with complete training and ice rink facilities.
The road work is currently causing major delays in the area, but should be completed by August 2018.  The new roadway will be six lanes divided and ready when the Star's Center and other retailers start opening.  Throughout the year (September 2019) there will be other shops and restaurants opening.  A major tenant will include Flix Brewhouse. Flix Brewhouse will be an eight screen movie theater with an in-house brewery.   Flix Brewhouse already has many locations such as Frisco and Round Rock – and the Mansfield location will be another great offering in their portfolio.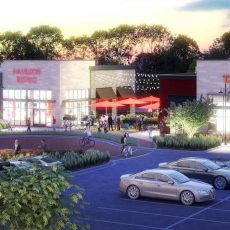 Other retailers coming into the area include Belks, a clothing retailer.  54th Street Restaruant Drafthouse has also been announced as coming soon.  The mixed-use area will include an apartment complex of 330 units.  Due to apartments and shopping and dining – there will be a parking garage to help with parking.

The area will have a pedestrian promenade that includes shops and restaurants – the idea being it will be nice to have a stroll and not feel like you are in a big box strip center.  This is also so the restaurants can offer patio dining and live music.

Overall, the Shop's at Broad will be a great new offering to the city of Mansfield.  Residents and locals will have new exciting places to dine as well as a new movie theater to compete with the sole theater Cinemark on 287.  A new sports store and other offerings mean that locals no longer have to travel to Arlington and engage in Park's Mall traffic…instead they will be able to stop closer to home and get great choices.

For Mansfield area online marketing information, go to www.eKrum.com.

April 8, 2018 | Derrel Allen